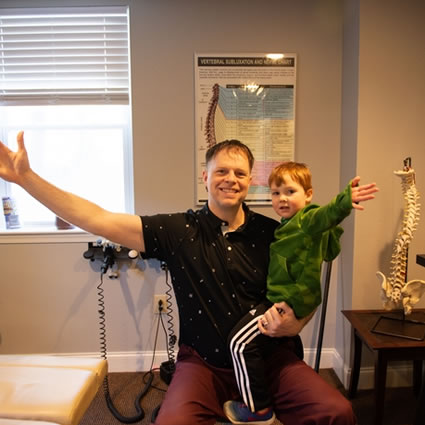 About Back to Health Chiropractic
Back to Health Chiropractic has provided quality health care for the Glen Mills community since 1999. In May 2021, Dr. Kevin Wilkins bought the practice to continue the tradition of expert health care. With over ten years of experience, he can help you find solutions for your problems.
Our Mission
Our mission at Back to Health Chiropractic is to create a chiropractic practice where members of our community can achieve better health and life-changing results through chiropractic care. We use the most advanced methods, and most recent research in chiropractic and natural health care, to help you reach the highest level of health possible.
A Hands-on Approach
Chiropractic is holistic care that sees all of you. Everything in the body connects through the nervous system. We don't just look at individual symptoms or fix one thing. We take the time to find the root of your pain and correct it.
When patients experience chronic pain, it impacts their lives in many ways – jobs, sports, and even day-to-day activities. Many people see chiropractic as a last resort, frustrated with doctor visits, unending tests, and ineffective medications.
Safe and effective, chiropractic is a non-invasive, conservative way to treat your issues. Regardless of your age, or the severity of your complaint, chiropractic can help. While we cannot "cure" your issue, we can correct the imbalance that's causing your pain, and allow your body to heal itself as it's designed to do.
MEET DR. KEVIN WILKINS »
Results You Can See
Dr. Wilkins has helped thousands of patients achieve their health goals with chiropractic care. One that sticks out for him was when a mom, who was a current patient, brought her five-year-old daughter to the practice.
The child had been suffering from daily, severe headaches and nosebleeds. After one week of treatment, both problems stopped. The parents also realized their child, who had previously exhibited extremely disruptive behavior, was a very sweet, mild-mannered child.
Find Out More!
Wondering whether chiropractic care will work for you? Contact us at (610) 361-9531, we're waiting to hear from you!

About Back to Health Chiropractic | (610) 361-9531